Some of the high schools and colleges have a large compound. Students often need to move from one class to another, the library, cafeteria, and dormitories, within a short time. Many students complain about the distance they have to cover.
There are different transport methods that students may use as the locomotive. These options range from bikes, cars, and e-scooters. Electronic scooters are affordable, quick, and fun ways to move around the school.
There have been technological advances over the years, and many students benefited from some of the devices for their studies. The various technological gadgets and devices have made some students lazy. Google is used by students to calculate some assignments and to do research. Students have, therefore, forsaken their textbooks and embraced technology. There are several advantages of technology which has helped the students to go through campus successfully.
There are various e-scooters that students can use to move around the campus. A scooter and some assignments help may be what you need for a blissful session on campus.
Here are some of the notable brands of electric scooters to consider.
1. Xiaomi Mi Electric scooter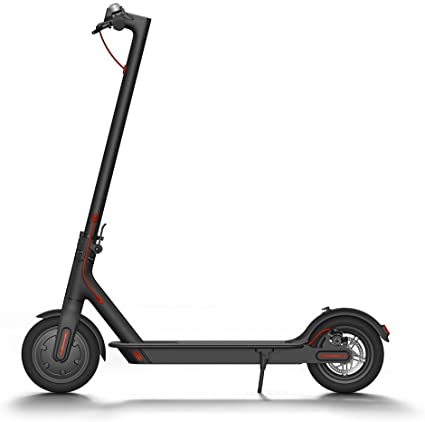 This entry-level electric scooter is the best for students who need to move around the school safely and faster. One advantage is that it is fitted with a double-safety braking system mounted externally for easy control.
These scooters also rank among the cheapest worldwide, thus a popular option for students worldwide. The scooter provides a long-range battery that lasts up to 18 miles under a single charge.
The exact mileage that you cover depends on the terrain type. Mi scooters have an incredible speed of 15 mph but increases in a gentile environment. It also comprises an ultra-lightweight, durable aluminum frame, making for easy carriage without wearing you out over long distances.
The scooter is fitted with 8.5″ pneumatic wheels for a comfortable riding experience. Its fold-n-carry makes it easy to store and carry around. It also boasts a short 9-hour charge time with a replaceable battery, allowing for a backup battery.
Pros
Battery is included
The extended deck allows for easy maneuvering
Features a short circuit and overcurrent protection
Good range
Reasonable pricing
Cons
Limited range of features
This e-scooter moves at a top speed of 20 km/h and covers 12.4 miles on a full charge. The battery takes a little 3.5-hour recharge time for a full charge. When it was launched, the scooter was highly-priced compared to its counterparts.
The scooter has a solid 250W front-wheel motor and 8.5″ pneumatic wheels that comfortably manage various terrain. It also provides three-speed modes for different situations. The 5km/h (pedestrian) mode is ideal for busy streets, the 15km/h (standard mode) for casual riding around the school, and the 20 km/h (sport) mode.
It weighs 12kg and is also foldable for comfortable carriage without wearing out your arms. The ABS brakes allow for precise control while the rear-light ensures road safety.
Pros
Can accommodate a maximum of 100kg
Fast 3.5-hour recharge time
Bluetooth connected control panel
Cons
Limited splash resistance
3. Segway Ninebot ES2     
Segway is making great strides in establishing its name among powerhouses like Xiaomi. Segway moves at a speed of 15mph, faster than Xiaomi essential. The scooter is more expensive in terms of the place where your priority lies.
The advantages of Segway include internal line, intelligent design, impressive speed, and full suspension. It is fitted with an 8″ front wheel and a 7.5″ back wheel that ensures comfortable rides. Together with the front and rear shock absorption, the pneumatic wheels provide smooth riding over various terrain.
The scooter extends to the range same as ES2 through the attachment of the auxiliary battery. It has a powerful 700w motor that few electric scooters can match. The scooter has a smart battery management system that prevents overheating, short-circuiting, over-currents, and overheating.
This scooter is also a great choice as it offers a less limiting 220-pound weight limit.
Pros 
Customizable LED display
Sturdy, lightweight, aerospace-graded aluminum alloy
IP54 water resistance
Cons
Performance is slightly affected when the headlights are on
4. Xiaomi Mi Electrical Scooter Pro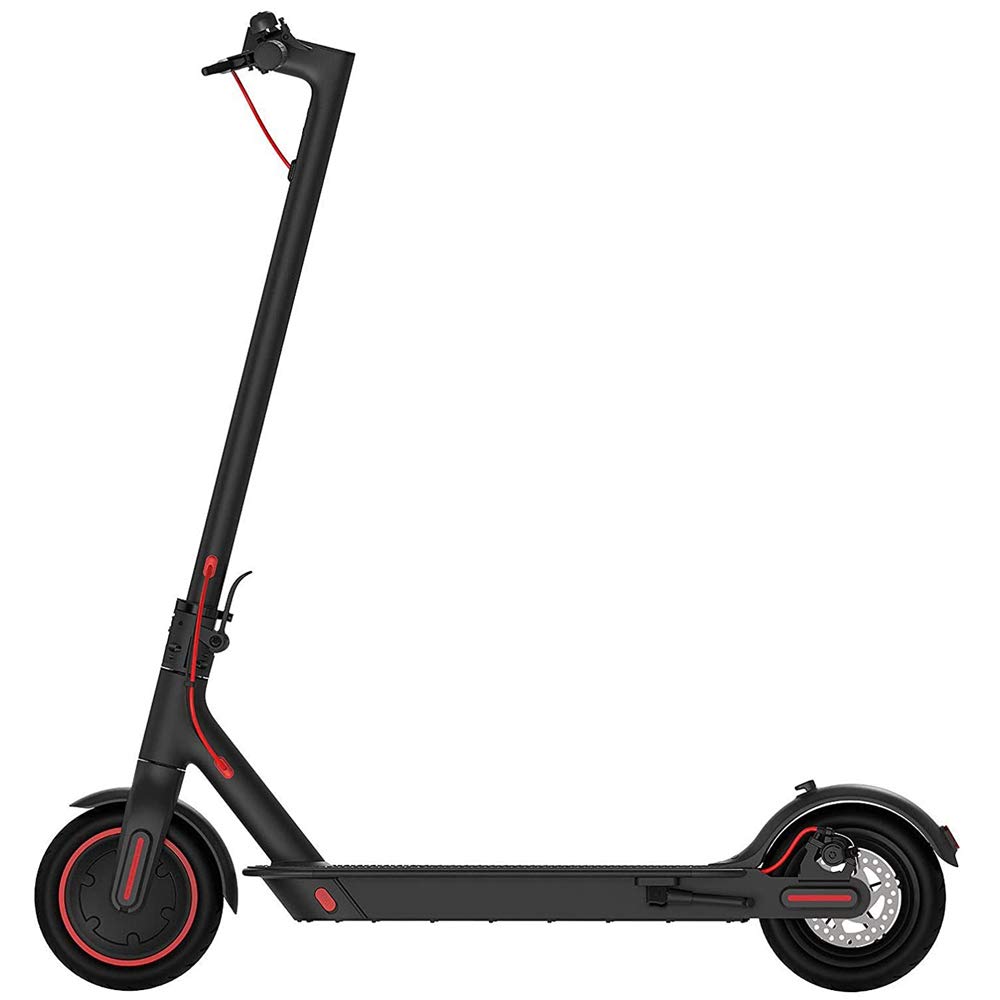 The extended form of Xiaomi mi electric scooter contains a bigger battery, a high asking price, and a more powerful motor. Xiaomi pro scooter has a 474W capacity that provides efficient acceleration.
The powerful battery has enabled people to charge the scooter once a week. The scooter takes nine hours to be fully charged and can run for 45km on a full charge. The scooter pro can climb hills than the Mi electric scooter.
The scooter weighs 14.2kgs and has a quick-fold design for easy storage and handling. Its grippy, air-filled pneumatic tires enable smooth, comfortable rides across various pavements. The IP54 rated scooter can handle subtle splashes without incurring any mechanical damage.
It also operates at a 15.5 mph speed and offers three-speed modes for various purposes. The rear mechanical disc ensures fast braking and smooth control. This sturdy scooter can comfortably manage a 20% climbing range.
Pros
Quick 3-second fold
It offers three-speed modes
Effective dual-braking system
Features a short circuit and overcurrent protection
Cons
It takes a long to gain a full charge
5. Pure Air Pro 
This electronic scooter is geared to navigate various terrains easily. It also has an IP65 water resistance rating, allowing you to cruise muddy paths without risking critical damage.
The scooter has a 500W motor and a 50km range over a single full charge. Its battery takes up to 5.5 hours for a full charge. Students can use them around even when there is rain because they are water-resistant.
The scooter moves at a breakneck speed, but we need to regulate our pace on busy school streets. They have a maximum load capacity of 265 pounds, which is greater than that of other brands.
They are of high quality and last for a very long time. The scooters also have 10″ front and rear LED lights and side reflectors, ensuring safety on the road. It also has a KERS front brake and a rear drum brake for precise control.
Pros
Solid build
Tires are filled with puncture protection fluid
Excellent hill climbing ability
Compatible with iOS apps for easy monitoring
15% gradient climb
Cons
Heavier than its counterparts
Factors to consider when buying an electric scooter
Students need to look out for some important details when they need to purchase an electric scooter. There are different ranges of scooters, and it varies according to the weight and capacity of the battery.
Battery- Electric scooters need to be recharged every time they run out of electric charge. Students charge their scooters when they depart from their homes and when they go back in the evening. As such, a scooter with a short charging time and long battery life is an excellent option for a busy study schedule.
You may also consider a scooter with a replaceable battery, allowing for the flexibility of a replacement in case one option runs out of energy.
Durability– Electronic scooters are made from a wide variety of materials. Some are designed from aluminum alloys that are lightweight and resistant to rust. Although steel is the most durable, it is heavier, making for a tedious carriage from one place to another.
Climbing capacity– This depends on the terrain around your school. Some scooters have a large climbing capacity reaching up to a 15% gradient climb. Preferably, the scooter should have a sturdy frame, front and rear shock absorption, and thick pneumatic wheels to reduce the shock as you navigate rugged terrains.
Price– Students also need to consider the cost of scooters. The cheapest scooters may work poorly and don't last for long. The sellers of cheap scooters may not give a warrant for built quality. Quality scooters contain disc brakes to help students stop their scooters safely and quickly in an emergency. Cheap scooters only have footbrake, whereby students use their legs to control their scoopers. The scooper is less safe, intuitive, and less effective. Speed is not a factor to consider since students need to move from one location to another slowly.
It would be best to slow down because of the busy roads to keep your scooter's battery charged for long and avoid accidents.
Safety– If you plan to use the scooter overnight, ensure that it is fitted with reflector strips, braking lights, and headlights. These help you to manage the roads and prevent accidents with other motorists comfortably.
Weight range– Not all electric scooters are created equal. Some have a larger weight capacity than their counterparts. As such, consider the weight capacity and settle for an option that exceeds your weight for easy accommodation of your books, laptops, and luggage.
Motor capacity– A durable motor ensures fast, steady acceleration, enabling you to cover climbing lanes easily. Although most options have a single-engine, more powerful options have a double motor.
Convenience– Some brands provide an adjustable handlebar and a fold-n-pack design, ensuring comfortable use and easy carrying and storage.
Water protection– Owing to their purpose, you can use scooters in various terrains and weather conditions. IP0 protection implies that the scooter is not protected and can be easily be damaged if exposed to rainy/ muddy conditions. IP7 rating is the highest protection and indicates that the scooter can be fully submerged in water without damaging the mechanical components.
Braking system– Preferably, settle for an option with front and back breaks. Some models have a mechanical braking system, whereas others provide ABS disc brakes which are more quality and less prone to wear out.
Wheel size– A giant wheel is preferred if you are often navigating rough terrains. Some wheels range between 8.5" to 10", thus do not get stuck in small ditches and potholes. Quality sets have puncture prevention fluids, reducing regular repair costs.
Tips for getting the best service from your electric scooter
Always wear protective gear when cruising on your electric scooter. CPSC-certified equipment is preferred as it has been tested and approved for safety and protection.
Ensure that the scooter folding mechanism is correctly locked in place and that the battery has enough charge to last you through the day.
Preferably, accelerate slowly as faster acceleration requires more torque and spends more energy.
When going uphill, keep the speed low to reduce air resistance and manage the energy expenditure.
Preferably, use your scooter in warm weather as batteries cannot reach their peak performance in cold weather.
Final Take
Fast movement from one class to another is essential for easy management of a school schedule. As such, the best electronic scooter should come in handy. Some of the best electric scooters are capable of reaching record speeds and provide multiple convenient features. These scooters are great options for various terrain and ensure your safety when cruising on steep pavements.