Timely, BloggingCoffe has brought many ways to know about latest technologies to ease your lifestyle. From PC, health fitness, software, gadgets to tech updates, this informational website is fully dedicated to let you know how cooperative the technology is. So what to wait for? At this piece of content by BloggingCoffe, we are to assist you discern Top 5 ways to recover Unsaved Word Document on Mac. Before we start introducing you ways, we must knows importance of Microsoft Word Document.  
Microsoft Word is a commonly used to create text based documents, exclusively for official purposes. However the best way to use Word is to put documents save automatically; most users don't care to save their Word files accurately. As a result, this fault goes tricky while saving a document you've created, or are editing. 
Whether your Mac goes crashed, or you forget to save document, this blog is really helpful to allow you know how to recover Unsaved Word Document on Mac.
1. Recover Unsaved/Deleted Word Document on Mac with AutoRecovery: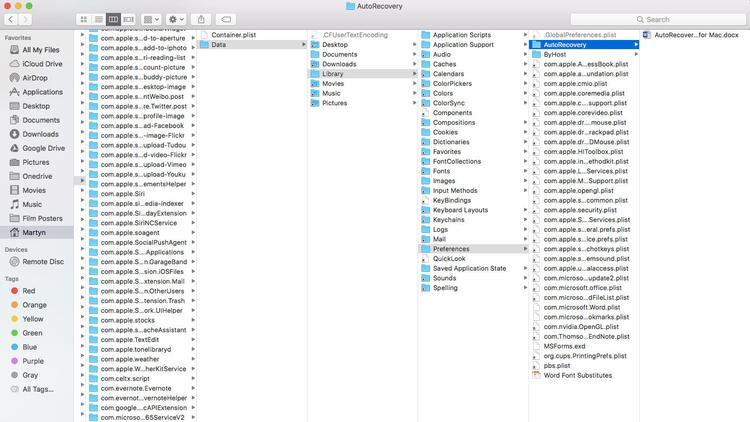 The Word for Mac gets AutoRecovery a best option. It gets turned on by default. This routinely saves a copy of an open Word file after every 10 minutes. If Word halts when working on a document, or the computer gets crashed, one can use the AutoRecovery copy to recover unsaved Word document with changes/additions that you made in your last Word for Mac session.
Dissimilar to recovering unsaved Word document in Windows, the file recovery on Mac from the AutoRecovery folder is diverse.
Open "Finder" on your Mac, then go to "Go".

Type: ~/Library/Containers/com.microsoft.Word/Data/Library/Preferences/AutoRecovery and click to "Go".

Open the

AutoRecovery

folder, find all the files that begin with the words "AutoRecovery save of". Pick the one you like to recover, rename the file, and then add the ".doc" filename extension.

Do a Double-click the file to open the Word document opens for Mac.

Leave a click to the File menu and choose "Save As"'.

Do typing a new name for the file into the Name area, and choose a folder for the file and then click to the "Save" button.
2. Recover Unsaved/Deleted Word Document on Mac from TMP (Temporary) Folder:
The Word on Mac protects a copy of the unsaved document named as Word Work File in the Temporary folder. The Mac also provisionally keep files in this folder. For many Mac users, it does not seem easy to find it. So to know it easy, there are few points given below:
Go to "Applications" > "Utilities" and do double-click on "Terminal".

In Terminal, go in open $TMPDIR and to the TMP folder which is intended to keep files temporarily.

In the TMP folder, open the folder named

TemporaryItems

. Therein, do a right-click to the unsaved Word files and "Open with…" Microsoft Word.

Save the Word file by a click to "File" > "Save As" to another location.
3. Recover Unsaved Word Document on Mac from Recovered Article:
The Word on Mac temporarily protects documents that user has not hitherto p in a folder named "Recovered items", located in the Trash. If there are no such files, this folder will not perform.
Open "Trash" by a click to its icon.

Search for a folder categorised "Recovered items" and do a click into it to seek your unsaved Word file. If you cannot get it, try the next solution.
4. Recover Unsaved Word Document with Best Recovery Software:
You may rely on Word file recovery software. There are many software available in the market to help you to recover Unsaved Word Document. So find an upgraded software with the best unsaved document recovery feature that you can easily recover unsaved Word files from Mac with a few minutes.
5. Recover Deleted Word Document with Best File Recovery Software:
The aforesaid four ways are absolutely to save the file you're working on, but unexpectedly disappear before you will save it by clicking on the Save button. To be particular, the methods will work for files that are in the practice of being worked on, when they faded. Therefore, if you would have lost a Word doc that is already existed by loss, or missing its access, you will require to turn on other best ways to recover deleted Word document on Mac.
Such software is the specialized Mac data recovery software that can clean your hard drive, or external hard drive, to get all the missing data that disappears without a trace on Mac OS X. It doesn't mean whether you blanked the trash bin or not, the deleted/unsaved file will show up after you make use of the program to scan your particular drive.
Conclusion:
Recovering Word documents on Mac is not tough. Cracking through hidden folders, and the trash are not just the fun. It can damage/lose the documents. So you will have to do a job; you must use a document recovery software.
Though there are lots of document recovery software available in the market, you must pick the one best to your requirements. So to know it before you can use it, it had better use that on trial basis. Once you find the best one, it will help you in saving the documents. 
At present, it is needed to stand by the technology that makes life easiest. Whether it is about professional or personal usage, the technology has shown its presence important to assist you in many ways. At this blog, you would have found best ways to recover Unsaved Word Document. As per changes in the need and time, we will be bringing you solutions to experience how 21st century has been more than magic to bring what you feel. 
No matter you are newbie to the technology, we may suggest you keep reading our blogs intentional to help you know all about the technology in a very simple way. So why to have Wrinkles on your forehead? Just subscribe BloggingCoffe to bring you on all tech updates.