Every day the new technologies are introduced in the market to enhance the picture quality before posting on social media platforms. Recently, the social media buzz Facebook made a huge change in their app by introducing the amazing feature named "3D photographs". This feature is available on mobile devices. It is the latest AR technology that creates a number of effects to your picture and it seems like alive that is quite impressive and beautiful. This technology enormously captures the distance between the substance in the forefront and background. It is an amazing feature that gives great knowledge as well as experience. If you are here that sounds you are crazy about the new technology and want to experience how you can post your pictures with 3D effects. Let us learn how to do 3D Photos on Facebook.
Facebook made possible for the users that they can put their amazing pictures, hangout shots with their friends, beautiful shots of their locations and much more with 3D effects. Basically, in this you are required to take a photo with your smartphone which should have dual lenses, you can take a picture and post it on Facebook. When you scroll or tilt it seems real that factually amazing to watch and it seems you're doing something.
Now, posting the picture on the Facebook become more amusing because you can now add the digital version of your image that increases your likes and adds fun to your free time.
If you need to capture the photo of 3D you have to choose dual lens camera with portrait mode that basically found in iPhones and smartphones.
When you take a picture through the Facebook app the social networks use AI technology to build the image in the 3D.
Compatible devices
As I said, to post a 3D picture you need dual camera phones which has the ability to create a 3D image with portrait mode. This feature can be supportable by an initial rollout to iPhone 7+, 8+, X, XS, and XS Max. Moreover, Facebook will introduce the new features in the future and also make possible for all the user's to post 3D pictures who have no iPhone.
The 3D photos on Facebook can also be viewed in VR by oculus browser. Don't worry, you can also enjoy the 3D photos views and posts in News feed in upcoming days.
How to Post a 3D photo on Facebook?
The recent new feature of Facebook has been loved by a number of users, but it is very important for you to know how you can use this feature and post your 3D photos by your iPhone in portrait mode.
Follow the steps given below:
Log in to your Facebook account on iPhone
Click on create new post option
You can see 3D photo option at the below of text box
Click on the 3D photo
Gallery will open and select your desired photo which you would like to post in the 3D format
In any case, you want to click your picture you can
After selecting the photo you can preview the 3D photo and then click on the next button
And your caption and then share the image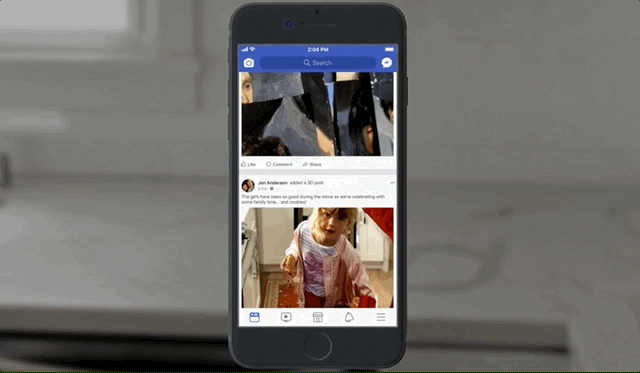 The steps are simple, but the drawback is only it can be posted by only iPhone and Android users, but don't worry because FB will introduce the new features and Technology soon so that anyone can post the 3D picture.
How to post a 3D photo on Facebook via android?
The number of persons has Android phones and the biggest advantages you can also post the picture in 3D effect by your Android devices. Let us do by following the given steps:
Log in to your Facebook account via your smartphones
Click on "what's on your mind" option.
Scroll and select the 3D option from the list of options.
Select your photo which you would like to post on you can click the image
Check the preview of your photo in 3D
Add the best caption and tap on the share button.
Your picture will post
Simple! Now you got to know how you can use this feature so, enjoy your free time and make your social posts more interesting.
Uploaded 3D photos will appear on the Facebook and anyone can see it even these can be viewed in VR by using oculus browser, go for Firefox on oculus rift.
Which photos can be more interesting to post?
It's very important for the user that he should use this feature smartly because it can convince your whole story which you want to explain to the world.
Using these features can be effective and create a great impact of your personality so, if you are the person who really wants to earn a number of likes on the Facebook, you must post the picture which has multiple layers of depth and lots of contrast, Shades, and colors.
Choose the image that works good and pretty better to watch for you and your friends as well.
Always take the shot which explains the depth of distance between the foreground and background so you can experience the best 3D effect advantage.
If you have a group of friends or want to share your image with a great amount of height, this tool is for you.
Who can see the 3D pictures?
These 3D pictures can be viewed by anyone who has Smartphone and iPhone even it can be also viewed in the oculus browser.
Final words
If you are a creative person, photographer and want to take the picture quality to the next level so this can be the best option to go with.  Well, it has drawbacks such as it requires a dual-lens camera, smartphone, and iPhone, but you can use this feature very well if you have the gadgets.
Now, you easily got to know that how you can post the 3D photo so use this feature and create the Great quality of your picture and share with great confidence. If you don't have iPhone or smartphone so wait for few days because Facebook will resolve this drawback soon.