Let your mobile phone count your footsteps. Sure! It will help you to increase steps more than you did on the last time. At present, technology has made our life a step ahead; it lets you feel yourself Man of Orders. Now let us discuss on best pedometer apps for android that will not only feel you living in the futuristic world but also assist you count accurately your steps. At this piece of content by Blogging Coffe, You will be happy knowing that pedometer app comes with dual benefits: it is a step counter and tracker of your progress. If you are truly serious about your fitness, these pedometer applications for Android are highly suggested.
Whether you are on your foot to lose weight or get 10,000 steps a day, these pedometer apps are ideal for fitness level. Also it is significant to remember that many of these applications are free to download, while most of them give some kind of premium version with additional features. These are the best step counter apps truly, so should you know about them given below:
1. Runkeeper:
Runkeeper is the free step counter app for android, that has a well-designed interface and that runs easily. This lets you to track any type of activity: walking, running, or cycling. It facilitates you also share your workouts on social media. It comprises exercise rewards, community challenges, and other things for motivation. You can affix photos to an activity you have just done, making an unforgettable feel. Thereby we highly suggest you use this pedometer app.
Features:
Running Groups
Stopwatch Mode
Challenges
2. Google Fit:
Google Fit keeps track of stuffs: time active, steps, and more. The pedometer app holds up all Wear OS smart watches. Also, this combines with other apps, such as MyFitnessPal, Runkeeper, Lifesum, and many others. This app does a somewhat decent job of being a pedometer. This app has a small memory footprint for your phone. With its responsive and instinctive interface, it is the finest pedometer app for fitness beginners. Yes Google Fit is free with no in-app purchases. Again we say it is a good start.
Features:
Track Workouts from Phone
Connect with other Devices
Get Coaching
Monitor Goals
3. Step Counter:
Step Counter is a pedometer application with no GPS tracking, and no cloud service. It has many features, including a lot of different themes for variety, report graphics to help you track your progress. Also the good thing is that all features given are available with any plan, such as free one. The only additional-feature the pro plan can recommend is advertisements exclusion. Its UI is lovely and well-designed. You will start by setting a daily goal which does not have to be 10,000 steps. As you embark on to apply the app, you will start observing reports like overall steps for different periods, and usual daily steps.
Features:
Vibrant Themes
Power Saver
Report Graphs
4. Pedometer:
Pedometer is best step counter app for android. It has a truly easy and instinctive interface to use by anyone. Also the app comes with a start/stop button that brings it great for tracking the intended runs. Also it features typical range of step counters, calories burnt, and speed tracking. It shows your lasting walking information in an expedient graph. It makes use of your gender and weight to provide you an idea of the number of calories you burnt and the quantity you should be free.
Features:
Calorie counter
Start/Stop button
Information Graphs
5. Zombies, Run:
This is a very trendy fitness app; it lets you walk, or run while listening to a story. Its distance grows them through story. So to listen next part of the story, you have to keep going. If you d not keep going, then you find the game. The games do not essentially record each individual step. On the other hand, the app records your total distance. If being tracked by a zombie induces you to run extra mile, then this is undeniably the best step counter app for android. Our lives rely on whether you keep going or not, thus you better finish your workout.
Features:
Full Statistics
Customizable story playlists
Share your walks online
Attuned with Wear OS by Google
6. Runtastic Steps:
This is a really powerful and best pedometer app for android. Whether you wish to find out the general stats of your activities or wish to evaluate your records, this pedometer app is apt to assist you get your goals. In addition, sharing your growth with your friends has never been easier that makes by this app. On the other hand, an unacceptable thing is that this app needs a subscription to get to the most excellent features, like training plans to drop some weight.
Features:
Daily Step Goals
Bespoke Plans
Activity Summaries
Google Fit Incorporation
7. Walk with Map My Walk: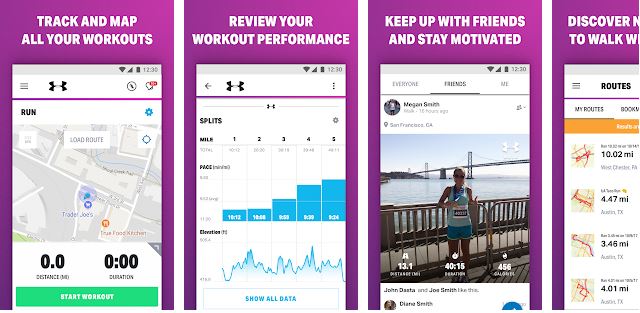 This app is one of the leaders in the modern day fitness equipments. If you want exact GPS location tracking and complete maps of your runs, then it is the best app you can trust for. In addition, you may share your data with other nutrition apps like MyFitnessPal. This app does not focus deeply on only running as walking takes attention here. The app assists you track your normal walks to get you in shape.
Features:
Track Workouts
Live Tracking
Connect with Apps
Activity Feed
8. Noom Walk Pedometer: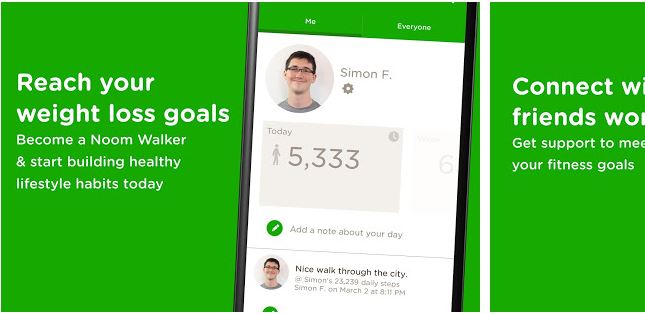 It is a great app set with perfect interface and strong features. Noom Walk Pedometer automatically calculates steps wherever you go. Even if your smartphone is in your pocket, it will do the job counting your steps. The pedometer app lets you to combine your social life with your fitness management, facilitating you to promote your friends.
Features:
Automatic Step Count
Elegant Algorithms
Low Battery Drainage
Social Media Distribution