If you want to share any information then Facebook is the best portal through which one can reach the maximum people in less time. Facebook can be used for personal as well as professional way. Users must have complete knowledge of Facebook because it is good but can be used for negative purposes as well.
So, before you start using Facebook get the knowledge of all the features of Facebook. Features like uploading photos or albums, video uploading, downloading procedure, sharing in public or private, privacy policy, group join, checking location, emojis and many other features. The privacy setting is one of the important features as it can prevent your information from going viral to unknown people. It can be visible only to your friends only if you have selected the option otherwise it will be displayed only to you until you yourself make it a public post.
How to Download Facebook Videos?
Many people are not aware of how to download photos & videos from Facebook.  One can click on the photo and below there is an option of downloading photos, so one can download the photo from there, It's very simple.
Now if you want to download videos then it will not be directly downloaded from there. For downloading videos there are few tools like free download Facebook videos and many other tools.
The video that one wants to download will be required to right-click on video then copy the URL of that video, then go to a Facebook downloader or free Facebook video download, over there just paste that URL of the video, then you can download the video from there.
To download Facebook videos:
1.Go to: https://dontgetserious.com/facebook-video-download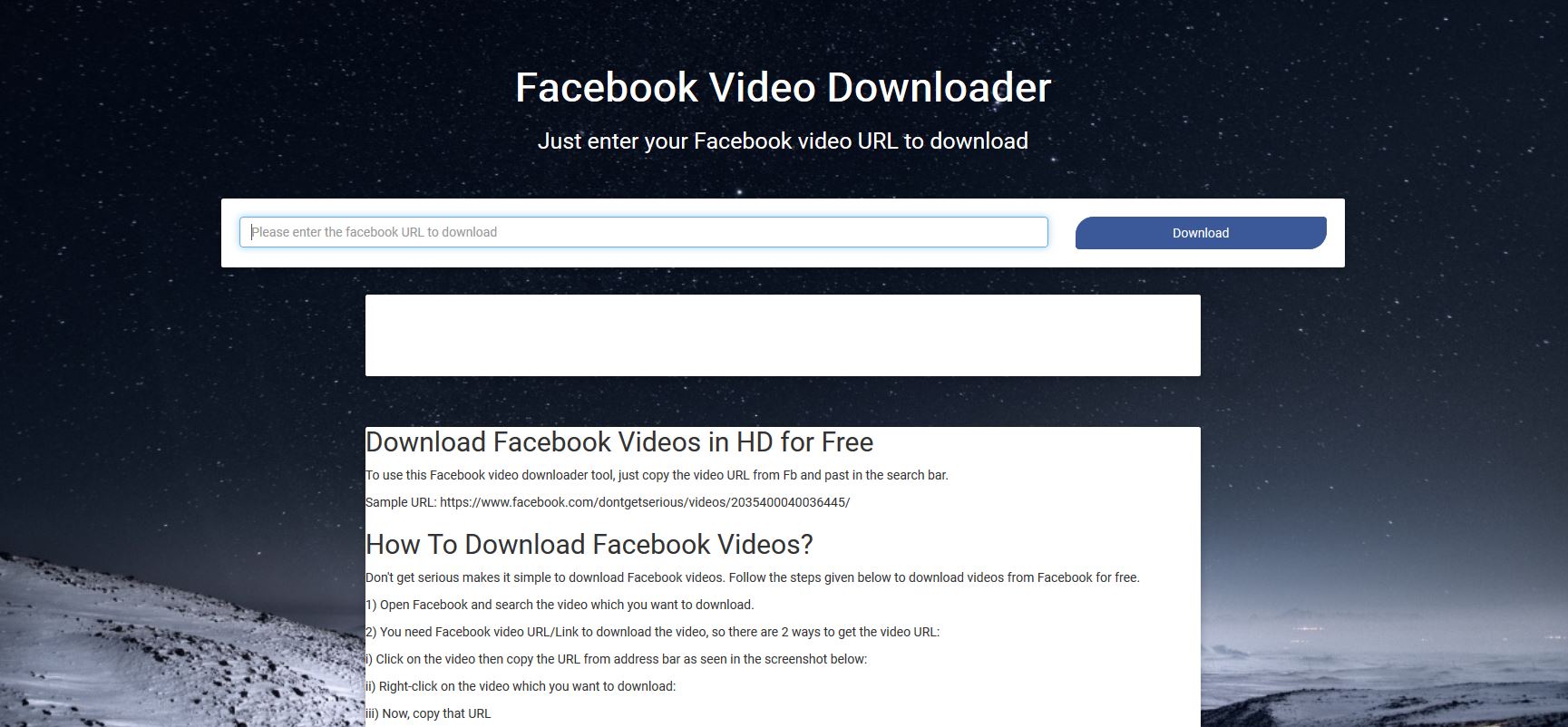 2. Paste the URL in the URL box and click on the "Download" button.
3. Wait for a few minutes and your video will be downloaded.
By following the above procedure one can easily download any videos from Facebook. Facebook keeps on updating its features according to the requirement of users, but nowadays many cybercrimes are also registered, which are caused by using Facebook.
What is the Need to Download Facebook Videos!
You must be wondering if it is easy to watch videos directly on Facebook or you can also save it then what is the need of downloading it right?
The question to your answer is simple! What if you want to share that video with your friends but not instantly? Or what if you like a video so much that you can watch it again and again and it gets lost on Facebook and you never find it?
Or what if it is a video that can make you feel relaxed and you need to watch it to calm down your mood? These are some major reasons why downloading videos from Facebook can be a smart decision for you. However, you can do the same thing with Instagram videos too.
Facebook As A Professional Platform!
Facebook can be used in a professional way, like now a day if any company wants to do marketing of their product then they can do it through the Facebook portal.  Professional courses are there through which one gets the training of how to do branding of the product through social media, which tools of Facebook are useful for marketing strategy, at a lesser time how they can reach to the maximum people.
All of this can be learned.  Facebook marketing is possible, depending on the product and the targeted audience.  But you can't trust all the information on Facebook, because sometimes useless and unnecessary information is shared on such a platform and which creates rumors among all the users.
So even you can download the videos from Facebook, only required to follow the above procedures. One can get all the steps of downloading through goggling also. Still using such tools for aged people is not so easy.
Mostly the majority of the users on Facebook are of a young age or middle age. Facebook has become one of the successful platforms. Recently Facebook has taken WhatsApp as well. Both tools are the best tools for sharing any information among the public. It can be reached to the maximum people at a lesser time. Facebook is a web portal as well as a mobile application. There are a few terms and conditions required to be understood by users before they get registered on Facebook.
Be Smart On What You Post!
There are fake profiles on Facebook through which one can send the friend request to the respective person and they become friends on Facebook, which results in fake relations or the information given to such people can be used in many negative ways and the ultimate many big crimes are taken place.
Facebook | Instagram | WhatsApp
Facebook, Instagram and WhatsApp are the three major social media applications that millions of people are using especially the young generation are spending most of their time on these platforms. There is no doubt that these applications are keeping us connected with our loved ones but limitless access of anything is dangerous for our mind as well as our body.
Before you post anything on your Facebook account which is quite private, make sure you are sharing it with the right people! Avoid adding people to your friend list who are strangers to you. No wonder, if Facebook can give you happiness by connecting you with your loved ones, it can be one of the worst nightmares of your life too.