PAN card is the most essential document these days so every person knows its value. It is really compulsory to have PAN card for every individual and also for taxpayers, you must need your PAN card for making all the financial transaction. Right? From your small to big investment plans you must have your permanent account number. To open a new bank account, to buy a new car, in mutual funding and for many other purposes, the requirement of PAN card can never be denied. For the completion of your entire bank related tasks, they require your PAN card as a proof that works without showing any errors.
As we all know that these days the processor of applying new PAN card can be done online easily without the requirement of the post and courier your documents. Even the process of making changes in Your PAN card is also really crude. To Change PAN card name and other details you can trail the simple method online. Fixing the incorrect spellings, date of birth and other details can make your PAN card free from errors.
The slight changes in the details can make an impression that you cannot predict. The procedure of making corrections in your PAN card is really easy; you just have to be a bit careful while applying steps online. If you find some mistakes on the PAN card you can readily fix them without facing any complication. You just have to read heedfully all our mentioned methods to make exact changes that you want in your PAN card.
In this review we are going to explain the exact process of changing the name on PAN card and other details online, so let's start:
How to make changes in PAN card name and other details online?
There can be various reasons behind changing your name on PAN card. If the spellings are not correct and also due to marriage or some other reasons if you have changed your name then also you need to make corrections in PAN card. While following the method of making changes, make sure that you can show your Adhaar card to show the correct spelling of your name as a poof but if it is not possible for you then you have to show valid documents to show your name has changed now, for an instance, by published in newspaper, wedding invitation, marriage certificate or some other legal documents for the confirmation of correct and changed name spellings because these are the only documents that can correctly show the reason for your name change of spelling mistakes. Now just check the provided procedure to correct the incorrect details in PAN card and apply them according to your need, have a glance at the following steps:
You can make changes in PAN card online after visiting NSDL website

After visiting the NSDL website, you will find an application type option where you have to clink the drop-down menu

Then you have to select the option of alterations or changes in current PAN card

After that, you have to enter all the details including captcha code before clicking on the submit button

The next step will offer you the submit option for your pan document. It can be easily done by an e-KYS that requires your Adhaar card and a scanned photo through tangibly sending documents or by e-sign.

You have to fill entire fields that are marked with a red star (asterisk) before clicking on the next button

Just fill your personal details with a red asterisk in the fields marked then click on the next

You have to be very careful while filling your details, so make sure that all the details should be exactly matched with the spellings and information on the Adhaar card before paying for changes

In case of any mistakes, you can refund but be vigilant check heedfully before submitting it

You have to choose the documents you need to submit with your applications.

Now click on the eKYC after filling all the details and then click on the proceed

After this, there will be the option of paying a fee that will cost Rs. 120 for the revision or repair of pan card for all the Indian citizens while Rs.1, 040 for those who live outside from India, after the completion of this step you have to click at pay confirm

You have to enter the payment details accurately for a successful transaction

After this, you will get two numbers including bank reference and transaction number after getting both just click the continue button

With the help of your Adhaar, you can now authenticate by tick the box below the number of Adhaar

After confirming the details are matched exactly with Adhaar just click on the continue with e-KYC

To generate OPT tick the checkbox and enter the OPT before submitting it

Finally, you will reach the page where you will get your application form that was submitted before, you just have to download its PDF and you will also take acknowledgment by mail
Once you will successfully do all these steps you will become able to make changes that you want in your PAN card. Just be careful while filling details and follow all the mentioned steps, you will surely proceed with your application and will early receive the altered PAN card.
How to check PAN application status online?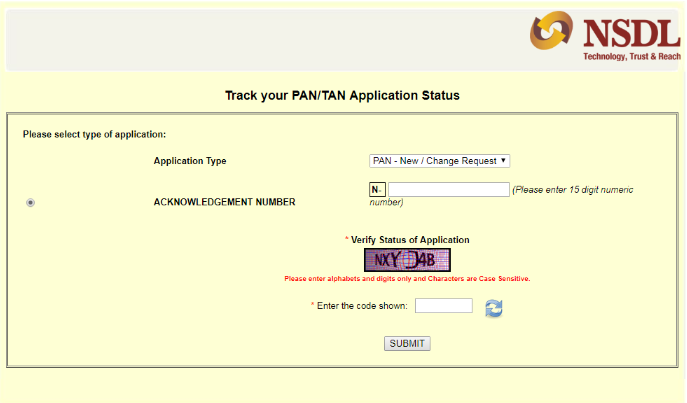 To track your PAN card application status online you have to follow really simple steps that are described below:
Initially, you have to go to the NSDL website

After a visit here just choose the application type

Then you have to enter the acknowledgment number that was provided to you while application submission time

Before the final submit just enter the CAPTCHA code
Final words
Remove all the errors from your PAN card and make it free from mistakes by just following all these above-mentioned steps and then simply track your PAN application status online.