There are numerous ways to convert the MP3 format into text in today's world filled with technology. MP3 is a file format that contains designated files of audio. The conversion process is quite simple as all you have to do is upload your MP3 file and click 'auto transcribe," and download your text file. So, here are the 10 best websites for MP3 to text converters online.
The use of the following websites can easily convert MP3 to text. These websites make the transcription process a very simple one as manually; it takes a lot of effort and hard work.
1. Go Transcribe
Go Transcribe is a fast, affordable transcription that is powered by artificial intelligence.
The AI-based website helps you to transcribe an hour-long file in less than 15 minutes.
You can create a free account and upload your audio/video files straight onto their web-based transcription platform.
It adjusts your transcript, it has in-built online editorial features that make your workflow streamline. It can be exported in a wide range of formats. The entire website's security has standardized enterprise-grade security to provide privacy for its users. It also supports transcription in more than 17 languages.
2. SpokenData
This cloud-based software lets you convert automatically to transcribe your speech to text.
The website online synchronous editor helps you to surf your data and transcripts.
It allows you to download the transcript in many formats.
The transcription solution of this website is super simple. All you need to do is upload the media file and select the speech-to-text technology and once the automatic processing is done. You will be notified by email to download your transcript. It also comes with other features such as speaker segmentation, voice activity deception, and text to audio alignment.
3. Happy scribe
Happy scribe helps you transcribe in more than 20 plus languages. It allows you to transcribe and add subtitles all in one platform. The software is backed up by Artificial intelligence that allows you to transcribe quickly, effectively. It also has unique features such as interactive editors that will ease you to interact with your transcripts and subtitles.
It also allows you to create a workspace for collaboration. The website is also seamlessly integrated with your favorite application such as zapier, youtube, and more.
You can export your file in multiple export formats.
4. Converse smartly
Converse smartly primarily uses A. I realm to develop an advanced speech recognition application, but the back-end of Converse Smartly uses java's spring-boot framework.
It is a powerful speech to text software that converts audio to text with great accuracy.
The website can be used for various applications such as speech analyzes from meetings, interviews, conferences, and seminars.
One of the most intriguing features is the talk to text app that is powered by cognitive learning that is rendered with advanced network algorithms to provide unparalleled accuracy.
It also has other features like live audio text analysis, multiple speaker detection, live audio transcription, speech analysis, automatic transcription to other languages.
5. Otter
It is a great platform to generate notes for meetings, interviews, lectures, and other important voice conversations. This website uses the latest AI technology for advanced transcription. It is one of the most advanced speech to text technology.
You can easily record conversations and import or sync them to your other devices. Its recording feature is integrated with zoom. It allows you to perform live transcription that converts within minutes and also has features to edit, organize and share the voice notes that enable you to create groups for collabs.
6. Temi
This advanced speech recognition software transcribes your speech to text in 5 minutes and delivers the files faster. It also provides features such as proprietary algorithm, simple editing tool, review & edit, speaker identification, export transcript. Your files are always saved with utmost security applications such as TLS 1.2 Data Encryption. Temi is a game-changer as it transcribes interviews faster and also gives the space to save and record all the interactions.
7. Verbit
Verbit is a trustworthy platform that is used in various streams such as court reporting & depositions, education & disability needs, eLearning, and media production. It has been tailored to deserve industries for real-time, customized transcriptions, accuracy in audio description, API that fits workflow, exports available inSRT, VTT, SCC, SAMI and additional formats, live meeting transcripts with speaker identification, and translation in different languages.
Its special AI algorithms help to remove the background noise. It uses professional transcribes to enable a steady conversion of speech to text.
8. Dragon professional individual
Dragon professional is integrated with next-generation speech engines leveraging deep learning technology that enables a faster transcription and spends less time on documentation. Its key features such as formatting by voice, smart format rules, optimizing accuracy, and canceling noisy backgrounds are quite advantageous.
You can also import and export from popular cloud-based documents and allow you to sync with various other applications for a seamless document workflow.
9. Amber script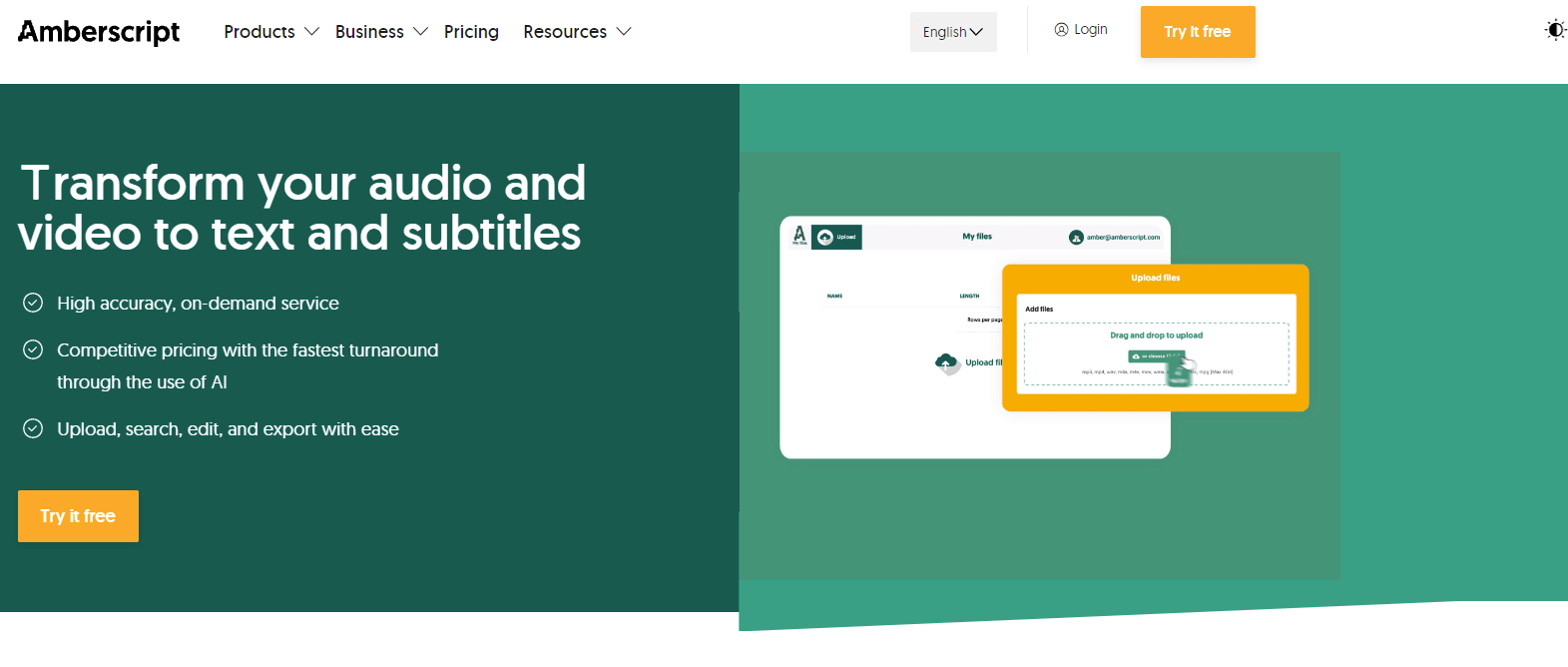 Amber script is used by major companies such as puma, Amazon, Netflix and used by over a million customers. It is integrated with an API that allows you to request a customized model according to your needs and provides access to multiple users. It allows you to add captions and subtitles to make SEO-based content.
It offers an online text converter in over 29 languages and also exports your text file in various formats. This tool is a SaaS service having a speech recognition feature.
10. Trint
Trint is a major platform that allows you to turn audio and video into text and allows you to share the content in up to 31 languages. It has been used by global companies such as Nike, Airbnb, the Washington Post. This web-based service uses AI for transcription, and your data is fully secured with ISO 270001. This application is ideal for podcasters, video editors, and broadcasters. The enhanced technology increases the user's efficiency and productivity.
We hope you found this article about the 10 best websites for MP3 to text converters online helpful!
Also Read – Top 9 Voice Changer Software